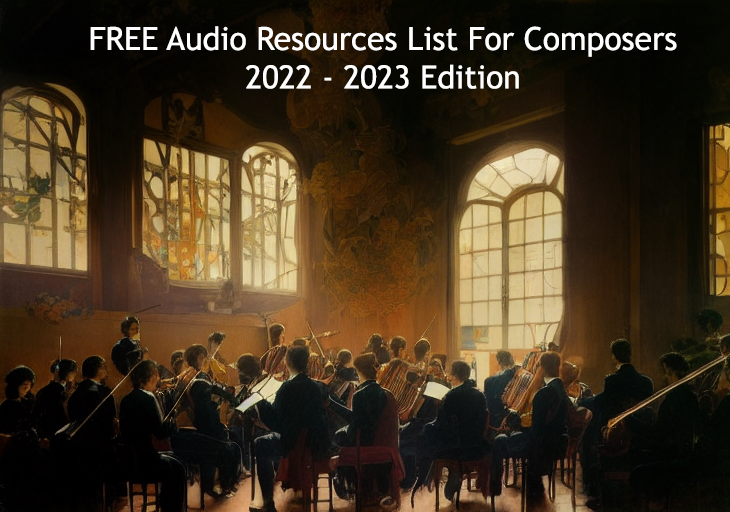 This list is mainly aimed towards individuals who seek to compose Orchestrations, Hybrid / Soundtracks or other types of scoring projects on zero-budget, current Kontakt users who need extra libs for no-cost, anyone wanting to learn or bursh-up on different kinds of theory, or anyone else just looking to get started with building up a large freeware arsenal to cover as much as possible!
If you do find a few things useful on this list, please drop a react and maybe a comment if you have time, if there's any feedback you'd like to provide!
UPDATES:
12th October 2022 - list overhauled from old version with new sections and given a new post! Additional plugins, video and website links for learning resources shall be added over the next few days. Also fixing some dead links
Criteria for everything on this list is as follows:
1 - The items on this list are 100% free and will remain free in an obtainable manner (no limited-time freebies). A certain selection of these might require FULL Kontakt to use (which isn't free), but the libraries themselves are 'free' to grab.
2 - Anything which is specified as non-commercial/personal-use only is not listed. Any items on the list where the terms/agreements change towards becoming non-commercial/personal-use only will be removed if I'm alerted about it.
3 - I am not including Sample Packs as that would take up an entire news-post of it's own. Patch banks will be limited to 'Free' banks only and only if they exist in large archives.
Soundfont section is a work-in-progress. They will need to either have a Commercial-use License to make the list, or a CC Sample+ License.
NOTE 1: This list shall be updated as time goes along.
NOTE 2: (There may be freebies that you know about which are not included here. Some of them I may not know about, others I may already know of, but have left them off the list for one reason or another. If you feel as if something should be added to the list, please comment below and I'll take a look. What has been included so far have been products I've either personally spent time with, or have been impressed enough with demo's/walkthroughs to include them on the list.)
=============================================================
= FREE ORCHESTRA, SCORING and KITS - DEDICATED PLAYERS = 
ORCHESTRA - DEDICATED PLUGIN/SAMPLE PLAYERS (No Kontakt Required!)
OrchestralTools: SINEfactory - https://www.orchestraltools.com/free (11 Libraries, including Orchestral and Big Band options)
OrchestralTools: LAYERS - https://www.orchestraltools.com/store/collections/layers
VSL: Free Instruments (Synchron Player) - https://www.vsl.co.at/en/Product_Overview/Free_Instruments (6 Libraries, including Big Bang Orchestra!)
Spitfire Audio: BBC Symphonic Orchestra Discover - https://www.spitfireaudio.com/bbcso/discover/ 
Spitfire Audio: LABS - https://labs.spitfireaudio.com (over 50 of them!)
BigcatInstruments: VSCO2 Rompler (Versillian Studio's) - http://bigcatinstruments.blogspot.com/2017/02/vsco2-rompler.html
ORCHESTRA - KONTAKT PLAYER (FREE) COMPATIBLE
ProjectSAM The Free Orchestra 2.0 - https://projectsam.com/libraries/the-free-orchestra/
Keepforest: Ferrum Free Edition - https://keep-forest.com/store/libraries/225185
Sonoxinema Sirens Freebie - https://sonixinema.com/collections/freebies/products/sirens-freebie
Sonoxinema Contemporary Bass Freebie - https://sonixinema.com/collections/freebies/products/contemporary-bass-freebie
SOUNDPAINT
Soundpaint: Free Instruments - https://soundpaint.com/collections/free-instruments
PIANO (DEDICATED PLAYER) (No Kontakt Required!)
Keyzone Classic - https://plugins4free.com/plugin/2848/
Agushardiman: Golden Piano - https://agushardiman.tv/golden-piano-vst-free-piano-vst-with-the-sound-of-80s-90s-the-golden-era-of-music/
ESL: Atmos 2 - https://plugins4free.com/plugin/2608/
BigcatInstruments: Iowa Piano - https://plugins4free.com/plugin/2294/
FREE DRUM KITS - DEDICATED PLAYERS
StevenSlateDrums SSD 5.5 FREE - https://stevenslatedrums.com/ssd5/#SSD5FREE
Melda MDrummer Essentials - https://www.meldaproduction.com/MDrummerEssentials
MT Power Drumkit 2 - https://www.powerdrumkit.com/
EXCITE Snare Drum - https://www.chair.audio/product/excite_snare_drum/
Soundmagic Drum One - https://neovst.com/drum-one/
Purafied: Liquid Death Snare - https://purafied.com/products/liquid-death-snare
PIANOBOOK - https://www.pianobook.co.uk
(Shoutout to all of the individual creator's of the libraries over at Pianobooks, you're all amazing! <3 )
(NOTE: There's HUNDREDS of libraries here, with all of them having different player requirements. While most of them are DecentSampler compatible at this point (FREE Player) and SFZ format, others may require the full version of Kontakt. You'll need to register an account to check them out!)
SOUNDFONTS (SFZ/SF2 players required!)
SampleScience: G-Town Church Sampling Project - https://samplescience.info/2021/03/g-town-church-sampling-project.html
OTHER FREE SUITES OF INTEREST
NI Komplete Start - https://www.native-instruments.com/en/products/komplete/bundles/komplete-start/
Heavocity FOUNDATIONS Series - https://heavyocity.com/product-category/foundations/
=============================================================
= FREE ORCHESTRA, SCORING - FULL KONTAKT REQUIRED (Individual Libs though are FREE!) = 
(NOTE: Some products below which run in Kontakt also have versions which are EXS/ESX, SFZ or DecentSampler compatible for FULLY FREE USE and will be marked as so!)
(FREE - DecentSampler can be grabbed here: https://www.decentsamples.com/product/decent-sampler-plugin/)
(FREE - TX16Wx Player reads both SFZ and EXS Formats and can be grabbed here, probably the best player for the formats out there currently: https://www.tx16wx.com)
FREE ORCHESTRAL & ETHNIC - Collections
8DIO: Free Libraries - https://8dio.com/collections/free-instruments
Cinematique Instruments: KLANG Libraries - https://cinematique-instruments.com/pages_instr/page_klang.php
Sonoxinema: Free Libraries - https://sonixinema.com/collections/freebies
Strezov Sampling: Free Libraries - https://www.strezov-sampling.com/products/17/Freebies.html
BunkerSamples: Free Libraries - https://bunkersamples.com/freebies/
RedRoomAudio: Palette Primary Colors - https://redroomaudio.com/product/palette-primary-colors/
BigcatInstruments: Sketching Chamber Orchestra - http://bigcatinstruments.blogspot.com/2017/10/sketching-chamber-orchestra.html
BigcatInstruments: Sonatina Symphony Orchestra - http://bigcatinstruments.blogspot.com/2014/07/sonatina-symhony-orchestra-for-kontakt.html
Kontakt Factory Library - Included for Download in Native Access for all Kontakt 1-6 owners! Some orchestral samples are from VSL
Kontakt Factory Library 2 - Included for Download in Native Access for Kontakt 7 owners! Majority of orchestral samples are from Orchestral Tools
FREE ORCHESTRAL & ETHNIC - Individual
MusicalSampling: Solo Legato Trumpet - https://musicalsampling.com/trumpet-freebie/
Norrland Samples: Solo Trumpet - https://www.norrlandsamples.com
Cinesamples: Jerry's Pianos - https://cinesamples.com/product/jerry-s-pianos
IvyAudio: Carpenter Trombone - https://www.ivyaudio.com/Carpenter-Trombone
FluffyAudio: Simple Flute - https://www.fluffyaudio.com/shop/simple-flute/
ImpactSoundworks: The Stroh Violin - https://impactsoundworks.com/product/the-stroh-violin/
SplashSound Percussion Elements 3 - https://www.splashsound.org/percussionelements3.html
Sonuscore: HD Orchestra Chords - https://sonuscore.com/free-orchestra-chords/
Sonuscore: Sustained String Chords - https://sonuscore.com/free-orchestra-chords/
Embertone: Intimate Strings LITE - https://www.embertone.com/instruments/intstrings-lite.php
Embertone: Ivory Wind - https://www.embertone.com/instruments/ivorywind.php
WestwoodInstruments: Upright Felt Piano - https://westwoodinstruments.com/instruments/upright-felt-piano/
HiddenPathAudio: Orchestral Rise Builder - https://www.hiddenpathaudio.com/free
Samplephonics: The Leeds Town Hall Organ - https://www.samplephonics.com/products/free/sampler-instruments/the-leeds-town-hall-organ
Kraic: Wooden Percussion - https://vstbuzz.com/freebies/wooden-percussion/
PocketBlakus: Solo Cello - https://vstbuzz.com/freebies/pocketblakus-cello/
WalidFeghail: Feroyn's Flute - https://vstbuzz.com/freebies/feroyns-flute/
HephaestusSounds: Hang Drum - https://www.lootaudio.com/category/kontakt-instruments/hephaestussounds/hangdrum-free
HephaestusSounds: Oboe - https://www.lootaudio.com/category/kontakt-instruments/hephaestussounds/oboe-kontakt-free
FREE HYBRID / SYNTHS / ATMOSPHERES / MISC. USE
Output: Signal FREE - https://output.com/products/signal-free
Keepforest: Evolution: Devastator Warzone FREE - https://keep-forest.com/store/libraries/225381
ImpactSoundworks: Shreddage 3 Stratus FREE - https://impactsoundworks.com/product/shreddage-3-stratus-free/
Indiginus: Guitar Pack - https://indiginus.com/freedownloads.html
CinematiqueInstruments: Landscape - https://cinematique-instruments.com/pages_instr/inst_landscape.php
Rythmicrobot: NanoMod7 FREE - https://www.rhythmicrobot.com/product/nanomod-7-free
WavesFactory: Whispers - https://www.wavesfactory.com/free-kontakt-libraries/whispers/
HaveInstruments: Cello Textures Ristrettos - https://haveinstruments.com/collections/free/products/cello-textures-ristrettos
HaveInstruments: Cinematic Cymbals Ristrettos - https://haveinstruments.com/collections/free/products/cinematic-cymbals-ristrettos
WaveletAudio: Trailer Ambient Tools - https://wavelet-audio.com/trailer-ambient-tools/
MammothAudio: Density LITE - https://www.pluginboutique.com/product/1-Instruments/55-Kontakt-Instrument/6654-Density-Lite
=============================================================
= FREE DAW'S =
(NOTE: This list does not include 'Unlimited Trials' such as FL Studio Demo-Mode and REAPER-Unlicensed, as they're not truly 'free' for commercial use in those capacities)
(NOTE: Ardour is 'free', in the sense that it's free if you compile it yourself. Otherwise for Windows/MacOS users, you will have to make a monetary 'donation' to get a compiled version. Linux users get a compiled version for free)
Cakewalk By Bandlab - https://www.bandlab.com/products/cakewalk
Tracktion Waveform Free - https://www.tracktion.com/products/waveform-free
Ardour - https://ardour.org
=============================================================
= FREE SYNTHS =
VitalAudio: Vital - https://vital.audio
VCV Rack - https://vcvrack.com
NewfangledAudio: Pendulate - https://www.eventideaudio.com/promo/pendulate
Zyn: ZynAddSubFX - https://zynaddsubfx.sourceforge.io
VemberAudio: Surge - https://surge-synthesizer.github.io
MattTytel: Helm - https://tytel.org/helm/
discoDSP: OB-XD - https://www.discodsp.com/obxd/
DigitalSuburban: Dexed - https://asb2m10.github.io/dexed/
Novation V-Station - https://downloads.novationmusic.com/novation/novation-software
Novation B-Station - https://downloads.novationmusic.com/novation/novation-software
FullBucket: FB-3300 - https://www.fullbucket.de/music/fb3300.html
MartinLüder: PG-8X - https://sites.google.com/site/mlvst0/
DaichiLaboratory: Synth1 - https://www.kvraudio.com/product/synth1-by-daichi-laboratory-ichiro-toda
Synthmaster Player - https://www.kv331audio.com/synthmasterplayer.aspx
= FREE HARDWARE EMULATION - SYNTHS =
(Please note: it is your responsibility to find any .bin (the OS file) for any emulations. I'm legally unable to provide you with a direct link to them, but can link the emulators!)
DSP56300 ('Full Virus B/C Emulation') - https://dsp56300.wordpress.com
= CHIPTUNE EMULATIONS/SYNTHS =
Socalabs: Commodore 64 SID - https://socalabs.com/synths/commodore-64-sid/
Socalabs: NES RP2A03 - https://socalabs.com/synths/rp2a03/
Socalabs: Gameboy PAPU - https://socalabs.com/synths/papu/
Socalabs: Sega Master System SN76489 - https://socalabs.com/synths/sn76489/
Socalabs: SFX8 - https://socalabs.com/synths/sfx8/
Socalabs: Voc Vocal - https://socalabs.com/synths/voc-vocal-synth/
=============================================================
= ENORMOUS PATCH BANK COLLECTIONS =
SYTRUS: Yamaha DX7 Soundbanks To Import - http://www.dxsysex.com (several thousand)
SYNTH1: Enormous Archive Of Patches - https://veryrandomstreams.blogspot.com/2012/03/over-10000-free-patchessounds-for-free.html (10,000+)
=============================================================
= FREE MIXING & EFFECTS PLUGINS = 
(These are curated from some of the best options that both myself and others in the community have used over the years!)
AMPS, STOMPS & IR SYSTEMS
Ignite Amps Emissary - http://www.igniteamps.com/#emissary
Ignite Amps NadIR - http://www.igniteamps.com/#nadir
Ignite Amps ProFET - http://www.igniteamps.com/#profet
Ignite Amps SHB-1 - http://www.igniteamps.com/#shb-1
Brainworx bx Rockrack V3 Player - https://www.plugin-alliance.com/en/products/bx_rockrack_v3_player.html
Guitar Rig 6 Player - https://www.native-instruments.com/en/products/komplete/guitar/guitar-rig-6-player/
Auditory L12X Solid State Amplifier - https://www.audiority.com/shop/l12x-solid-state-amplifier/
Nick Crow 8505 - http://nickcrowlab.blogspot.com/
Mercuriall Chorus WS-1 - https://mercuriall.com/cms/details_freestuff
Mercuriall Tubes Creamer 808 - https://mercuriall.com/cms/details_freestuff
Mercuriall Greed Smasher - https://mercuriall.com/cms/details_freestuff
ANALYSIS
Voxengo SPAN (Customisable FFT spectrum analyzer) - https://www.voxengo.com/product/span/
Youlean Loudness Meter (Loudness Analysis) - https://youlean.co/youlean-loudness-meter/
Melda MAnalyzer (Spectral Analyzer) - https://www.meldaproduction.com/effects/free
Melda MLoudnessAnalyzer (Loudness Analysis) - https://www.meldaproduction.com/effects/free
CHANNEL STRIPS
HOFA System Basic (Flexible module-based strip) - https://hofa-plugins.de/en/plugins/hofa-system/basic/
AirWindows Console5 (Warm Strip) - https://www.airwindows.com/console5/
Analog Obsession LOADED (Full analog-styled strip) - https://www.patreon.com/posts/loaded-step-by-40299242
COMPRESSION
Xfer OTT (Aggressive Multiband) - https://www.kvraudio.com/product/ott-by-xfer-records
SAFE Compressor (Type keywords in to get results) - https://www.kvraudio.com/product/safecompressor-by-semantic-audio
TDR Kotelnikov (High quality compression/dynamics processor) - https://www.tokyodawn.net/tdr-kotelnikov/
Acustica Tan (Modelled VCA Compression) - https://www.acustica-audio.com/store/t/acqua/free
AudioDamage RoughRider3 (Parallel) - https://www.audiodamage.com/pages/free-downloads
Analog Obsessions LALA (LA2A-styled) - https://www.patreon.com/posts/lala-36128829
Vladg Molot Compressor (Dirty/Colourful Compressor) - https://vladgsound.wordpress.com/plugins/molot/
Melda MCompressor (Versatile Digital) - https://www.meldaproduction.com/effects/free
CHORUS
TAL-Chorus-LX - https://tal-software.com/products/tal-chorus-lx
Acon Digital Multiply - https://acondigital.com/products/multiply/
DELAY
Valhalla FreqEcho (High Quality Variable Delay) - https://valhalladsp.com/shop/delay/valhalla-freq-echo/
DYNAMICS & SHAPING
bx_subfilter (Sub Control, Punch+Body Boosting) - https://www.plugin-alliance.com/en/products/bx_subfilter.html
DISTORTION/SATURATION
Shattered Glass Audio SGA1566 (Modelled mic preamp for colouring) - http://www.shatteredglassaudio.com/product.php?id=104
Audio Damage Fuzz Plus 3 (Modelled off a Vintage Fuzz Pedal) - https://www.audiodamage.com/pages/free-downloads
Wave Arts Tube Saturator Vintage (Based on the OG version) - https://wavearts.com/products/plugins/tube-saturator-vintage/
Softtube Saturation Knob (Modelled Saturation) - https://www.softube.com/index.php?id=satknob
Creative Intent Temper (Unique Digital Phase Distortion) - https://creativeintent.co/products/temper
EQ
TDR Nova (Best Free Dynamic Digital EQ) - https://www.tokyodawn.net/tdr-nova/
TDR Slick (3-band Digital EQ & Colouring Box) - https://www.tokyodawn.net/tdr-vos-slickeq/
Analog Obsession FIVER (SSL-G styled EQ) - https://www.patreon.com/posts/fiver-48483719
LKJB Luftikus (MAAG-4 Hardware Emulation with AIR Band) - https://www.kvraudio.com/product/luftikus-by-lkjb
SPL Free Ranger (SPL Modelled) - https://www.plugin-alliance.com/en/products/spl_free_ranger.html
EXCITER
La Petite Excite (Basic Multiband Exciter) - https://www.finecutbodies.com/?m=S008&p=sound
FILTER
TAL-Filter-2 (Filter Shaping)
CFA FilterGrizzly2 (Tube-Emulation Filter) - 
Melda MComb (Decent digital Comb Filter/Shaping) - https://www.meldaproduction.com/effects/free
bx_cleansweep V2 (Brainworx-ran Hi/Lo-Pass - https://www.plugin-alliance.com/en/products/bx_cleansweep_v2.html
niveau filter (Scale Filter) - https://www.plugin-alliance.com/en/products/elysia_niveau_filter.html
TAL Filter II (Visual Oversample Filter) - https://tal-software.com/products/tal-filter
GLITCH & TRANCE GATES
Alex Hilton A1 Trigger Gate - https://a1audio.alexhilton.net/a1triggergate
GLitchmachines Fracture - https://glitchmachines.com/products/fracture/
GRANULAR FX
Eugene Yakshin Ribs - https://www.kvraudio.com/forum/viewtopic.php?t=486995
LIMITER
Yohng's W1 Limiter (Waves L1 Limiter clone with L2 style approximation) - http://www.yohng.com/software/w1limit.html
Sonic Anomaly – Unlimited (Mastering Limiter with multiple views/analytics) - https://plugins4free.com/plugin/2843/
ThomasMundt Loudmax (Lookahead Brickwall Limiter) - https://loudmax.blogspot.com/
MASTERING
bx_masterdesk classic (All-in-one analog-modelled system) - https://www.plugin-alliance.com/en/products/bx_masterdesk_classic.html
PROCESSING SUITES
kilohearts Essentials (30 Effects!) - https://kilohearts.com/products/kilohearts_essentials
IK Multimedia T-RackS 5 Custom Shop - https://www.ikmultimedia.com/products/tr5cs/
Output SIGNAL Free - https://output.com/products/signal-free
REVERB
Valhalla Supermassive (Quality Reverb/Delay combo) - https://valhalladsp.com/shop/reverb/valhalla-supermassive/
Melda MConvolutionEZ (Convolution Reverb for modelling spaces) - https://www.meldaproduction.com/effects/free
DenisTihanov OrilRiver (Quality algorithmic option for room reverb) - https://www.kvraudio.com/product/orilriver-by-denis-tihanov
Hotto Spring Reverb (physical modelled string reverb) - http://www.hotto.de/vstplugins/springreverb.html
GPUAudio FIR Convolver Reverb (Powered off your GPU instead of CPU) - https://www.gpu.audio/early-access
Igorski FogPad (Dark & wild reverb) - https://www.igorski.nl/download/fogpad
STEREO IMAGING
iZotope Ozone Imager (Audio Imager from Ozone Suite) - https://www.izotope.com/en/products/ozone-imager.html
gmonobass (Bass Stereo Imaging) - https://www.gvst.co.uk/gmonobass.htm
Cable Guys Pancake 2 (Auto-Panner) - http://www.cableguys.com/pancake.html
Polyverse Wider - https://polyversemusic.com/products/wider/
Flux Stereo Tool v3 (Stereo ANalysis + Control) - https://www.flux.audio/project/stereo-tool-v3/
Aegean Music Doppler Dome (Doppler Effect) - https://aegeanmusic.com/doppler-dome-specs
TRANSIENT SHAPERS
Auburn Couture Free - https://www.auburnsounds.com/products/Couture.html
Flux BitterSweet v3 - https://www.flux.audio/project/bittersweet-v3/
UTILITIES
Voxengo MSED (Mid/Side encoder & decoder) - https://www.voxengo.com/product/msed/
Xenakios PaulXStretch (Paul Stretching Plugin) - https://xenakios.wordpress.com/paulxstretch-plugin/
bx_solo (Mid/Side Control) - https://www.plugin-alliance.com/en/products/bx_solo.html
Double MS (Triple-Mic Setup, Recording Decoding) - https://www.plugin-alliance.com/en/products/schoeps_double_ms.html
Melda MOscilloscope - https://www.meldaproduction.com/effects/free
VINYL
iZotope Vinyl - https://www.izotope.com/en/products/create-and-design/vinyl.html
VOCALS
iZotope Vocal Doubler - https://www.izotope.com/en/products/vocal-doubler.html
Melda MAutoPitch - https://www.meldaproduction.com/effects/free
TAL Vocoder - https://tal-software.com/products/tal-vocoder
Analog Obsession SweetVox (Vocal DeEsser) - https://www.patreon.com/posts/sweetvox-34294211
=============================================================
= LEARNING RESOURCES FOR ALL (THEORY, MIXING AND DESIGN) =  
(Essential video's & links covering all sorts of topics which everyone should watch!)
MUSIC THEORY AND WRITING ESSENTIALS (Great for Beginners!)
Music Theory in 16 Minutes: https://www.youtube.com/watch?v=_eKTOMhpy2w
The Basics (Starting from ZERO): https://www.youtube.com/watch?v=WSB3iIkDy7o
Music Theory In One Hour (Animated): https://www.youtube.com/watch?v=kvGYl8SQBJ0
How to write a GREAT melody: https://www.youtube.com/watch?v=9LUQUk0hd10
The Secret to What Chords Work - Putting Tunes and Chords Together: https://www.youtube.com/watch?v=ycg2AQ9DMA4
How to Write Music - Keeping it Simple: https://www.youtube.com/watch?v=feBjmBXlU0Q
How To Write Music - Scoring Step By Step: https://www.youtube.com/watch?v=XcazJ4ynDno
5 Things to Make Better Music INSTANTLY: https://www.youtube.com/watch?v=R5KWgiZsIGY
How To Develop A Musical Idea: https://www.youtube.com/watch?v=Q3HdQVkw1Qk
How To Write Music When You've Got Writers Block: https://www.youtube.com/watch?v=rrkhfTphhrQ
How to Improvise: https://www.youtube.com/watch?v=IjGn4MPhi74
Time Signatures Explained for Beginners: https://www.youtube.com/watch?v=BHmVr8ZPmp0
Lists Of Scales and visual reference for them: https://pianoscales.org/
OTHER USEFUL THEORY/COMPOSITIONAL
How To Make Your Samples Sound More Realistic: https://www.youtube.com/watch?v=FeXwvpRWqoo
How To Score Films: One Scene Four Styles: https://www.youtube.com/watch?v=ZdCkDXGhCPo
How To Write Music For Different Film Genre's: https://www.youtube.com/watch?v=VplStNOR_zE
OTHER USEFUL TECHNICAL INFO
How To Use A Breath Controller: https://www.youtube.com/watch?v=FnCMnXxxous
Orchestral Samples - Getting The Best Out Of The Room, Mics And Reverb: https://www.youtube.com/watch?v=enhOQ6m5NQM
Optimise Windows 10 For Music Production in Under 5 Minutes: https://www.youtube.com/watch?v=FNTa8gx8i3I
MIXING ESSENTIALS (Multiple Genre's)
Basic Mixing Theory - https://www.youtube.com/watch?v=YEorsfZe4vU
Get Started Mixing Music - In Just 30 minutes - https://www.youtube.com/watch?v=dqCCPYNYGq8
Fundamentals of Mixing & EQ | Electronic Music Essentials - https://www.youtube.com/watch?v=RU0wSC36-Ck
How To Mix Cinematic Music - https://www.youtube.com/watch?v=qmPNjq4uUH8
Masterclass on Mixing Metal - https://www.youtube.com/watch?v=o2dbsRmkWW0
13 ways to Mix METAL FASTER! - https://www.youtube.com/watch?v=Qv3t9p_vpUs
Mastering Levels & Gain Staging Tutorial - https://www.youtube.com/watch?v=5XOXaxI3PGU
MASTERING ESSENTIALS
How to Master Your Music in 5 Simple Steps - https://www.youtube.com/watch?v=h-QCQiOkufc
How Loud Should You Master Your Music? - https://www.youtube.com/watch?v=GBqeSbisROU
6 Things Your Mix Needs BEFORE Mastering - https://www.youtube.com/watch?v=y2PrUAy2Bj8
SOUND DESIGN ESSENTIALS
The 9 Fundamentals Of Sound Design - https://www.youtube.com/watch?v=nzcx2sm_g4Y
Sound Design & Synth Fundamentals - https://www.youtube.com/watch?v=cPxE9-Dr3EI
Synthesizers Explained For Beginners - https://www.youtube.com/watch?v=pmuAR-hGur0
Sound Design Basics, Four Main Types of Synthesis - https://www.youtube.com/watch?v=fF5OEW-E_v4
Sound Design For Filmmaking - https://www.youtube.com/watch?v=MwksKUJSZ9s